Reverse Emporium
Reverse Emporium is a gallery space and gift shop located within the Reverse Garbage Queensland warehouse. Featuring the work of local artists, craft workers and designers who salvage, reuse and up-cycle materials, Reverse Emporium stocks gorgeous high quality art, jewellery, accessories, furniture, home wares, gifts and trinkets that are perfect for the eco-conscious buyer!
A myriad of materials, from timber and scrap metal to textiles and salvaged odds and ends have taken on new a life as beautifully crafted objects and art. Salvaged materials take on new form and meaning, illustrating the possibilities for the reuse of otherwise wasted materials.
Reverse Emporium runs a quarterly series of exhibitions showcasing the work of talented Brisbane artists that demonstrate an awareness of sustainable practices and a devotion to reducing the impact of their craft on the environment.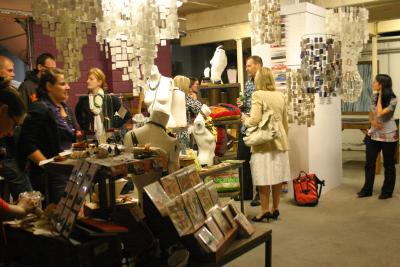 Image: Rozina Suliman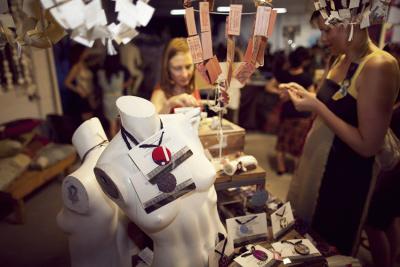 Image: Yan Chen (http://lefugitif.wordpress.com/)
Become A Supplier
Looking for a place to sell your creations? We are always looking for new artists, craft workers, designers and gift shop stockists. Whether you already salvage and up-cycle or want to try using salvaged materials for the first time, we love to see what you create!
Criteria
All items submitted must be made up of 75% salvaged materials (this means materials can be pre loved, reused, reclaimed and up-cycled.)
All items must be finished to a high standard and suitable for sale
Commission
Reverse Garbage Queensland sells items on a consignment basis, generally with a 50% mark-up on the artist's asking price though this is subject to negotiation.
Contact
For more information please contact our Reverse Emporium Co-ordinator!
Need directions? Click here.