WornOUT 2018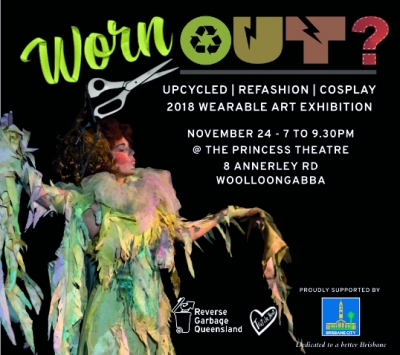 **UPDATE - Details for the event**
Schedule for the night
- 6.30pm - Doors open/bar open
- 7pm - Official opening
- 7.10pm - Refashion Showcase
- 8pm - Intermission
- 8.30pm - Shadows of Elysium - Wearable Art
- 8.40pm - Upcycled Cosplay Challenge
Getting to the Princess Theatre
- By Bus - The Mater Hill Bus Station is around 3 minutes walk away
- By Train - South Bank Station is around 12 minutes walk away.
- By Car
--- There is no on-site parking at the Princess Theatre.
--- The Princess Theatre is not within the Gabba Parking Zone though street parking limits may still apply.
--- Flat rate $5 parking on weekends is available at Princess parking (115 spots) - http://princessparking.com.au/
Accessibility
- Wheelchair and disability access to the theatre does exist but due to the age of the building it is limited. There is wheelchair and disability access via the side veranda to the theatre's auditorium and there is also a side ramp that has been added to give access to a modified disabilities toilet in the down stairs area of the building. Feel free to get in contact to pre-organise assistance at wornout@reversegarbageqld.com.au.
Food
- There will be some complimentary nibbles provided but there won't be any 'meal sized' food to purchase, so 'plan for an early dinner' would be our advice. There are plenty of food options next door to the Princess Theatre, Brisbane at Diana Plaza and around the corner on Stanley Street.
____________________________________________________________
Reverse Garbage Queensland & Textile Beat proudly present an exhibition of sustainable wearable art and invite you to ask the question:
Is it really...worn out?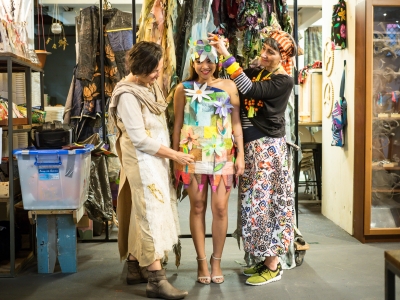 Director Jane Milburn (left) and Curator Elizabeth Kingston with volunteer model Liyana Jumahat preparing for WornOUT 2017
This year, WornOUT will be proudly sponsored by Brisbane City Council. Lord Mayor Graham Quirk said Council was proud to support WornOut, which aligned with its vision of a clean, green and sustainable city.
"WornOUT 2018 provides an interactive and educational opportunity for Brisbane residents and visitors to learn about how they can contribute to making our city liveable and sustainable for our children, and their children to follow," Lord Mayor Graham Quirk said.
"This event encourages residents to consider how they can make more sustainable fashion choices, prolong the life of existing clothing and actively supports textile recycling, reuse and repair so we can reduce the amount of textiles going into landfill."
For the first time, the exhibition opening night launch event will be held at a dedicated venue - the beautifully restored, heritage listed Princess Theatre in Woolloongabba on November 24 from 7pm.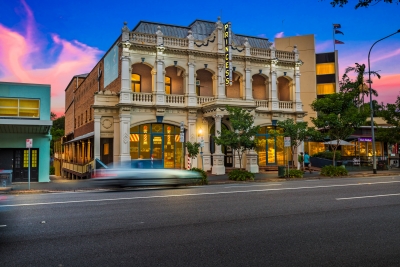 The Princess Theatre in Woolloongabba will host WornOUT 2018
The event is free, open to the public and will feature runway showcases for Refashion, Wearable Art and Cosplay, including the Upcycled Cosplay Challenge where contestants create Cosplay outfits from 100% salvaged materials.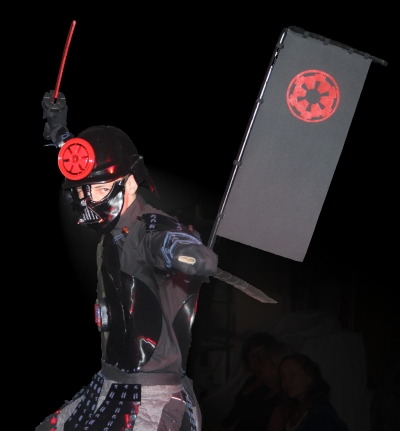 Samurai Darth Vader by Scott Burke
The exhibition will be followed by a series of creative workshops and a static exhibition of selected garments from the runway shows - details to be confirmed – stay tuned to the official Facebook event page at: https://www.facebook.com/events/176849939756628.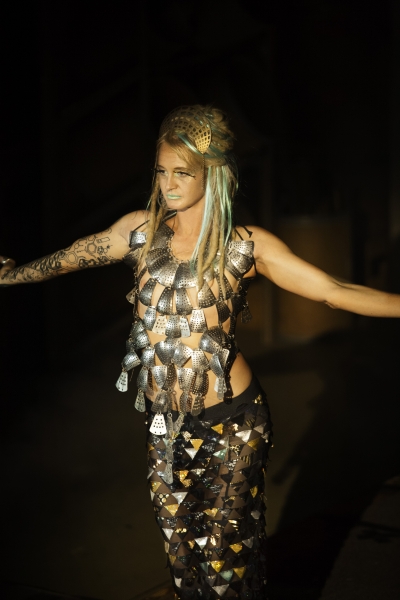 The Metal Mermaid by Sally Dennis
What: An Upcycled Refashion, Wearable Art and Cosplay exhibition including launch night with runway events, food and drinks.
When: Saturday November 24th, 7pm – 9.30pm
Where: The Princess Theatre, 8 Annerley Rd., Woolloongabba
Cost: Free
Ages: All ages
Facebook event: https://www.facebook.com/events/176849939756628
Media links:
Quest Community Newspapers
https://www.couriermail.com.au/questnews/the-fashion-show-saving-the-planet-one-dress-at-a-time/news-story/0912590a61b0291d73dae2eceb98471c?fbclid=IwAR0iKIvdxMRIGZik9ATYafBdHej1mte0gFn42INpt6GZN4FFO2rpgzMt6nA
Weekend Notes (article by May Cross)
https://www.weekendnotes.com/wornout-princess-theatre/
Your Time (article by Kay McMahon)
https://www.yourtimemagazine.com.au/stories/mending-our-ways/
For media enquiries contact:
Project Co-ordinator
Bill Ennals - wornout@reversegarbageqld.com.au
07 3891 9744 (Monday to Wednesday only)
or 0402 499 225.
Exhibition Director – Jane Milburn jane@textilebeat.com - 0408 787 964
A media kit with official media release and hi-res images is available for download at the link at the bottom of this page.