DIY Bugs and Creepy Crawlies
Making bugs and creepy crawlies
with Anne Giacomantonio | Monday 11th of January, 2021
Oh hi there, I've missed you!!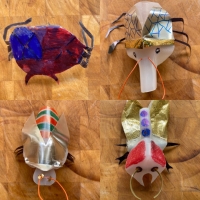 I was so looking forward to returning to work with the inspiring and creative young people that join me at our workshops! I love insects, some of the hardest reuse workers in our environment. Maybe I don't love them as much when they scuttle across my foot but I can still appreciate them and I love making them.
Instead of making them with you today I have been inspired by 10 year old Peggy from @letsmakeartuk to reuse some items from my own recycle bin. You can make these too!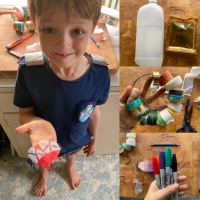 YOU NEED: A plastic milk bottle

TOOLS: Scissors… Permanent markers… Hole punch

NICE TO HAVE: Box cutting knife (use with adult supervision) … Washi tape or sticky tape… Other interesting colourful packaging… Wire or bread ties
LET'S GET MAKING!
1. Cut out your basic bug shapes (use some of the corners and shapes the bottle or packaging has already)
2. Consider the legs or nippers or stingers and cut out the parts you need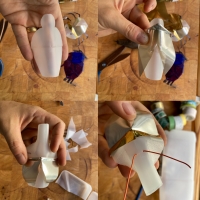 3. Cut out wings if required
4. Use your markets to make your bug colourful and colour in the legs >make sure you protect the surface you're working on
5. Attach everything - you could use tape, or carefully cut slots or holes in the plastic to join things together.
6. Finish you bug - does it need antenna? hair legs? Do you have anything else you can use from around the house - I bet you do!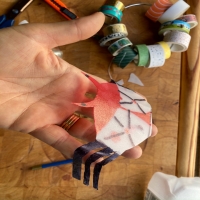 7. Wow!! How cool is your bug!! SHOW US! Share your bugs on social media - I'd love to see them!

Hope I'll see you soon, in at RGQ and in the meantime stay well and safe and keep up the CREATIVE REUSE!