WornOUT? 2019 Exhibition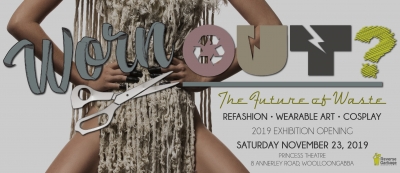 ** EXPRESSION OF INTEREST ARE NOW CLOSED **
This year our exhibition will take you on a journey to explore the Future of Waste through refashion, wearable art and cosplay.
If you're a budding environmental designer, artist or advocate for slow fashion, 'Worn OUT?' is your opportunity to show us how you envision your creative impact to be as we pioneer our pathways towards a Future of Waste.
The Cosplay showcase will feature an Upcycled Cosplay Challenge competition where selected applicants will create Cosplay outfits made from 100% salvaged materials, 90% of which must come from the RGQ warehouse.
Good luck!
#wornout2019
#creativereuse
#choosetoreuse
#reuserevolution
#futureofwaste
#refashion
#upcycle
#wearableart
#cosplay