worn OUT?!? -Call For Expressions of Interest for a Wearable Art Exhibition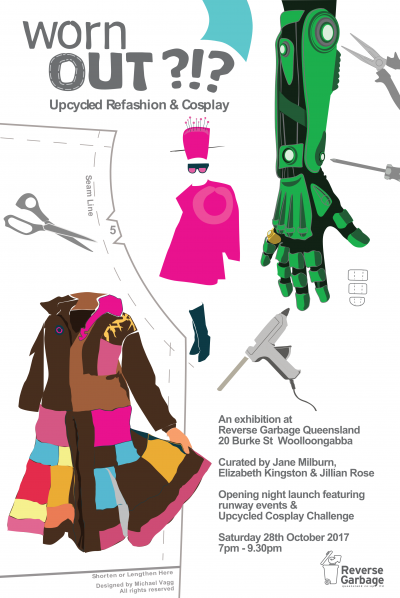 **Applications are due by WEDNESDAY 30th of August 2017**
Reverse Garbage Queensland (RGQ) is inviting expressions of interest for our upcoming exhibition, 'Worn OUT?!?'. The exhibition will focus on upcycled wearable art and consist of two discrete showcases, Refashion and Cosplay.
The exhibition will be launched with a free opening night event featuring a runway show for each of these components on Saturday 28th of October 2017 from 7pm to 9.30pm. The exhibition will continue to run with a static display of selected Refashion garments, Cosplay outfits and accessories for the following week in Reverse Emporium, the upcycled art and craft gift shop at RGQ's Woolloongabba warehouse.
'Worn OUT?!?" aims to showcase the creative potential of pre-loved materials and materials salvaged from the waste stream so all garments, costumes and accessories featured in the exhibition must consist of a minimum of 75% 'non-new' materials. It will also question the hyper-consumption and throw-away aspects of contemporary life and demonstrate an alternative approach to fashion and costume design.
The Cosplay showcase will also feature an Upcycled Cosplay Challenge competition where selected applicants will create Cosplay outfits made from 100% salvaged materials, 90% of which must come from the RGQ warehouse. Challenge competitors will be given a $200 voucher for use in the RGQ warehouse to subsidise their making and there will be a $500 RGQ gift voucher awarded to the winner of the challenge.
Australian refashion pioneers Jane Milburn and Elizabeth Kingston – renowned for supporting independent and timeless style based on creative reuse of existing resources – are co-curating the Refashion showcase.
Long-time Cosplayer and creative re-user Jillian Rose will curate the Cosplay showcase and encourages Brisbane's Cosplay community to get involved and come along in their own Cosplay creations – upcycled where possible of course.
"When you're creating, don't think about using something for its intended purpose, hunt and gather bits and pieces, turn it upside down, inside out or glue it together, there's so many ways to reuse and reinvent everything in our world and if Reverse Garbage Queensland has become your hunting ground, may the odds be ever in your favour" says Jillian.
Please download the attached file for more information. Also, feel free to contact us if you require any assistance with the application. Application, Media and General enquiries can be directed to Exhibition Co-ordinator, Bill Ennals at:
Email: wornout@reversegarbageqld.com.au
Ph: 07 3891 9744 (Monday to Wednesday only)