Worn OUT? 2018 - extended deadline for applications!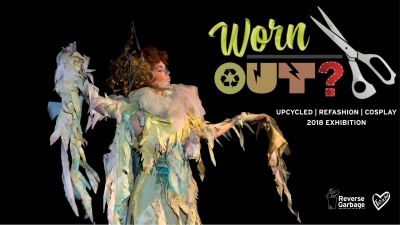 ***Deadline for expressions of interest has been extended to August 20***
Expressions of interest are invited for our upcoming exhibition, 'Worn OUT?'. The exhibition will focus on upcycled wearable art and consist of two discrete showcases, Refashion and Cosplay.
The exhibition will be launched with a free opening event featuring a runway show for each of the showcases on Saturday 24th of November 2018 at The Princess Theatre in Woolloongabba. The exhibition will continue to run with a static display of selected Refashion garments, Cosplay outfits and accessories for two weeks (location TBC).
The Cosplay showcase will also feature an Upcycled Cosplay Challenge competition where selected applicants will create Cosplay outfits made from 100% salvaged materials, 90% of which must come from the RGQ warehouse.
Please download the attached pdf for more information and feel free to contact us if you require any assistance with the application.
Application, Media and General enquiries can be directed to Project Co-ordinator, Bill Ennals at:
Email: wornout@reversegarbageqld.com.au
Ph: 07 3891 9744 (Monday to Wednesday only)