Worn IN 2018 Workshops Series
Get inspired at our Worn OUT? 2018 Exhibition, then 'lean in' with our 'Worn IN' workshop series from the 27th of November till the 1st of December.
Learn how to #rework, #refashion and pick the brains of some of our key #eco-art & Worn OUT #creatives. Choose from:
♻️ T-shirts Reworked with Elizabeth Kingston & Jane Milburn | Tuesday 27th of November, 6pm to 8pm
I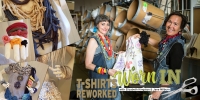 n T-shirts Reworked, join WornOUT creatives Elizabeth Kingston and Jane Milburn to rework disaffected T-shirts into delightful eco products. Using scissors, knots, twists and creativity, we show you how to repurpose t-shirts into neckpieces, bracelets, beanies, headbands, shopping bags and pouches. You will also learn how to make continuous t-shirt yarn to use later for crochet bags, bath mats or twisty rope. BYO T-shirts, if possible.
♻️ Flip Skirts with Elizabeth Kingston & Jane Milburn | Thursday 29th of November, 5pm to 7pm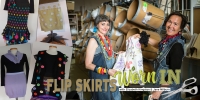 One way to extend the useful life of existing clothes is to give them a new identity. Join Worn OUT creatives Jane Milburn and Elizabeth Kingston and learn how to flip jumpers into skirts and skirts into dresses. BYO several options and we will achieve what we can within the timeframe. Note that jumpers need to fit over your hips and long full skirts work best.
♻️ Eco Accessories with Donna Morea Thomson | Saturday 1st of December, 10am to 12pm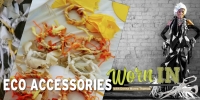 Create eco accessories with Worn Out 2018 textile artist Donna Morea Thomas. Learn to turn your plastic bottles and fabric offcuts, wool, buttons and beads into beautiful bespoke eternally brilliant endlessly modern accessories perfect for the party season or Christmas gifts. Within the timeframe, you create at least 1x necklace and 2x bangles or you may prefer a belt, hair accessory or dog lead – creative possibilities endless. No prior skills needed. If you can tie your shoelaces and use a pair of scissors, you can do this! All materials supplied, but if you have resources you want to include bring them too.
♻️ ReSplash'n with Jonathan Pampling | Saturday 1st of December, 1pm to 3pm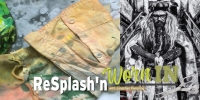 Get tips and tricks in "refashioning" an item of clothing with Futurist Environmentalist Jonathan Pampling a.k.a Athan Jon. Bring an item or two from your wardrobe to reinvent using painting and dyeing, embellishing and distressing techniques. Revive trash with splash. Have no fear, wear paint clothes so you can get creative and messy. No prior skills needed.
---