Volunteering Opportunities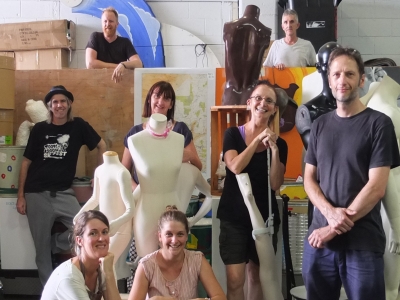 Are you passionate about the environment and preventing resources from being wasted? Do you want to be involved with an organisation that has sustainability at its core? Then consider volunteering with Reverse Garbage Queensland.

While we typically aim to provide gainful employment, we've identified that we could use a hand for just a few hours per week to advance our mission as a not-for-profit enterprise.

We're seeking people that are aligned with our values of sustainability and egalitarianism that can commit to volunteering four hours per week for a few months. We have openings for both our workshops program and gift shop.
Benefits of Volunteering with Reverse Garbage Queensland
Successful applicants will get to live their values through helping us to promote sustainability and resource reuse. We have a relaxed workplace, and you'll always be interacting with unusual industrial discards. Likewise, our warehouse has a great social vibe, and the team and customers are fun to talk with.
All volunteers are welcome to tea and coffee, and get 10% off general warehouse purchases.
The following roles would be ideal for people with spare time that want to add a social, physical and creative outing to their weekly calendar.
Workshops Preparation Assistant
Do you like to work behind the scenes?
Do you enjoy arts and crafts, and meditative tasks?
Do you want to help our facilitators to prepare their eco-art workshops for schools, festivals, shopping centres and libraries?
We're looking for someone to help out the workshop team for four hours a week on a Friday (10am - 2pm) for at least three months, to help us prepare salvaged materials for our educational eco-art workshops.
Reverse Emporium Assistant
Are you a social butterfly?
Are you or have you been involved with refashion, crafting, or upcycling or similar organisations?
Are you a fan of authentic artwork made from salvaged materials?
We're looking for someone for a minimum four-hours, once per week (Mon, Tues Afternoon, Wed) for at least six months, to help us organise our Emporium and scout creative talent to stock their wares.
How to Apply
If you find yourself able to make a commitment to one of these volunteer roles, please apply today!
Email us at: info@reversegarbageqld.com.au
Using the subject line "Volunteer Enquiry - (Workshop or Gift Shop)"
In your email, please provide your name and contact details, along with 25-200 words for each of the following questions:
Please tell us your availability, and whether you are able to make the required commitment to the unpaid volunteer role;
Please tell us why you want to apply for your chosen volunteer role;
Please tell us how your values align with those of our organisation; and
Please tell us if and how you have previously been involved with Reverse Garbage Queensland.
Thank you for considering volunteering with us, and good luck!