Sewing Skills Workshop with Boomerang Bags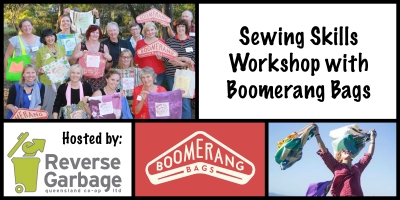 Hey Boomerang Bags and clothing repair enthusiasts!
Join Reverse Garbage Queensland and Boomerang Bags for an afternoon of sewing skills. This workshop is for people to connect, collaborate, learn valuable skills, and be inspired to reduce, reuse and recycle.
For those that might be less familiar with Boomerang Bags, the not-for-profit organisation began in 2013 to recruit the local community to sew bags using recycled and salvaged fabric as an alternative to single-use plastic bags. Now with over 370 communities worldwide, the Boomerang Bags community has made over 100,000 boomerang bags, the impacts of which extend beyond just plastic bag pollution, into the realm of community connection and kindness.
Among those present will be Tania Potts (BB Co-Founder), and Boomerang Bags' very own repair extraordinaire, Helen.
We will also be serving light refreshments, and attendees will walk away with a little something from Boomerang Bags. Please arrive by 12:30pm so that we can start on time at 1:00pm.
Join the growing community of environmentally-minded sewing enthusiasts and learn new skills. Say no to the throw away mentality and prevent needless waste of materials in landfill and the environment.
Register today by reserving an Eventbrite ticket to avoid disappointment!