Sep/Oct School Holiday Eco-Art Workshops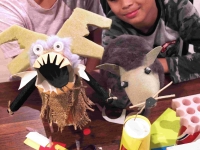 Our eco-art workshops for children are back for another school holiday! From Tuesday the 25th of September until Thursday the 4th of October, join us for another adventure through the world of creative reuse, where we'll get your kids exercising their imaginative eye as we turn industrial discards into young works of art.
Choose from:
Make Your Own Pet – Sep 25, Oct 3
Masks & Headpieces – Sep 25, Oct 4
Diggers, Dumpsters & Dozers – Sep 26, Oct 2
Junkbots from Outer Space – Sep 26, Oct 3
Fairy Doors & Magical Accessories – Sep 28
Make Your Own Board Game – Sep 28
Mythical Creatures – Oct 2, Oct 4
Kids will learn how to create useful toys & decorations from things that might be lying around the house or destined for the bin. Book now (starting from $21.53) to secure a place. Purchase two or more tickets and receive a 10% discount on subsequent tickets.
---
About Reverse Garbage Queensland School Holidays Workshops
Designed for children 4-12 years old, our workshops demonstrate how to use clean industrial discards to create amazing works of art! Children will learn something new, think outside the box and take home a special creation they will love to play with through the holidays! Our experienced facilitator will suggest age appropriate ideas to challenge and engage participants. Children under 6 need to be accompanied by an adult at no extra cost.
It's more fun when you're making with friends – invite friends to register through Facebook!
All bookings must be done on-line and prior to the respective workshops. Purchase two or more tickets and receive a 10% discount on subsequent tickets.
Tickets are non-refundable and cost $20 plus $1.53 booking fee. All children under 6 must be accompanied by an adult. Parents/Carers are free.
Book your tickets at www.reversegarbageqld.eventbrite.com.au.
p { margin-bottom: 0.25cm; line-height: 120%;