RGQ's Warehouse Easter Egg Hunt
Our Easter Egg Hunt is Back! Sat. 24 Mar to Tue. 3 Apr.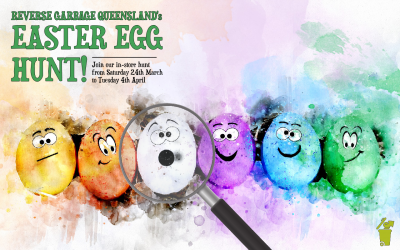 Everyone's a winner at the Reverse Garbage Queensland Easter Egg Hunt! Search the shop floor for clues to the whereabouts of the Easter bootie.
Every child who plays wins a chocolate surprise and enters the draw to win a spot at a School Holiday #ecoart holiday workshop of their choice.
The Hunt starts at the sales counter with 5 simple steps:
Collect your Easter Egg tally sheet at the sales counter
Search the shop floor and count the Easter eggs
Write down the number of Easter Eggs you have found
Give your tally sheet to the sales person
Win a yummy surprise!
Visit our Facebook page for more details