RGQ fights the war on festive waste by choosing to creatively reuse over Christmas and the New Year
Over the school holidays Reverse Garbage Queensland (RGQ) will be championing creative reuse by showing families that 'waste' is something we do, not something that 'is'.
"By encouraging children to see how the discards of Christmas 'junk', such as paper or packaging can be transformed into a simple toy, both children and parents will be able to see how 'waste' is a state of mind rather than a physical material", says Wendy Small, RGQ Workshop Coordinator.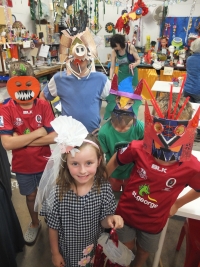 In preparation for Christmas, RGQ will be running our first group of workshops from Monday the 17th of December to Friday the 21st of December. In the first leg of our Summer Series, kids will have the opportunity to learn how to turn materials that have been earmarked for the tip, into festive crafts for Christmas, such as salvaged snow globes, ornaments or mosaics. For the less Christmas inclined, RGQ will also be offering the opportunity for kids to make fairy gardens and robots.
To continue the spirit of creative reuse into the New Year, we'll be picking up our Children's workshops from Tuesday the 8th of January until Wednesday the 23rd of January. Along with our familiar Tinker Lab and eco-friendly Fairy Gardens, we'll be launching a new workshop, designed to bring the two worlds of eco art with science by connecting their crafts to their environment. This workshop is our Build Your Own Outdoor Adventure Kit workshop.
RGQ workshops for children are $21.53 per child. Book two or more tickets and receive a 10% discount on your subsequent tickets. Parent and carers are free. For the full details visit www.reversegarbageqld.eventbrite.com.au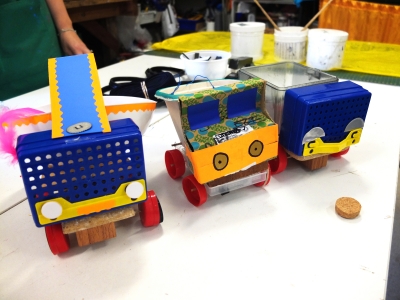 Our Summer Series Schedule:
| | | |
| --- | --- | --- |
| Day | 10.30am -12.00pm | 2.00pm-3.30pm |
| Mon, 17 December | | |
| Tue, 18 December | | |
| Wed, 19 December | | |
| Thu, 20 December | | |
| Fri, 21 December | | |
| Tue, 8 January | | |
| Wed, 9 January | | |
| Tue, 15 January | | Build Your Own Outdoor Adventure Kit |
| Wed, 16 January | | |
| Fri, 18 January | | |
| Mon, 21 January | | |
| Tue, 22 January | | Build Your Own Outdoor Adventure Kit |
| Wed, 23 January | | |
p { margin-bottom: 0.25cm; line-height: 120%; }a:link { }