Reverse Garbage Queensland is Turning 20!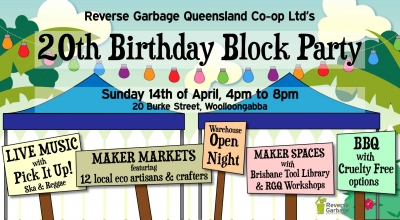 We're turning 20 and we want you to join us for the party!
Come down to the warehouse (20 Burke Street, Woollongabba) on Sunday the 14th of April from 4pm to 8pm. There will be something for all of us to enjoy!
Order of Events:
4pm - Eco Maker Markets, Cruelty Free BBQ, Maker Spaces OPEN

5pm - Official open by BCC Councillor Jonathan Sri, Member for the Gabba Ward

5:15pm - Warehouse opens for 'Night Trade'

6pm - Live entertainment by local brass band, Pick It Up!

8pm - Event closes



MORE DETAILS
♻️ Our Meet the Maker Market will be featuring some of Brissy's local eco artisans:
Annika Willauer - macrame

Grey and Bird - reclaimed timber

Paul O'Sullivan - reclaimed timber

Sue Gordon - wood blocks

Silvanna Sawyer - upcycled jewellery and embroidery

Kate Judson - salvaged metal jewellery

Wulfhure Daelman - cosplay

Anita Gosden - leatherware

Jhoomka - upcycled jewellery
Woodrock Turning - reclaimed timber mushrooms
Ivy Lane - jewellery and homeware

Sally Bowers - bags and headbands



♻️ Our free Maker Spaces for kids & adults will feature the:
Brisbane Tool Library; and

RGQ Workshops
♻️ Live entertainment from 6pm with local brisbane band, Pick It Up!
Bring friends and family along to groove along to the uplifting sounds of this local 8-piece brass band; and enjoy the night at our maker spaces and night markets.

---
This is a free event. All you need to do is spread the word, turn up & enjoy the festivities. Follow our event updates on Facebook.