Reverse Garbage Queensland, the People's Choice
Reverse Garbage Queensland, "The People's Choice"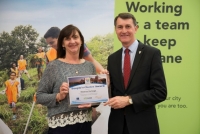 Reverse Garbage Queensland has just received a big vote of confidence from the public.
The Brisbane-based cooperative, which has been turning waste into a creative resource for 17 years, is this year's winner of the "People's Choice Award" in the Cleaner Communities Brisbane program, run by Brisbane City Council and Keep Queensland Beautiful.
The People's Choice recognises a "community champion" of environmental and community well-being, two values central to Reverse Garbage Queensland.
The not-for-profit sells clean industrial discards to the public for use in art and DIY projects, but also fosters community involvement in waste reduction and reuse through its educational workshops and partnerships with local artisans.
Bill Ennals, a director of the organisation, attributes the award to "a growing understanding in the community that we need to think more creatively about the problems of waste and excessive consumption."
"The words 're-using', 're-purposing', and 'up-cycling' are common, indeed even fashionable, in newspapers, magazines and blogs today, though when we opened our doors in 1999 this was definitely not the case," he said. "This award tells us that we've had a role to play in that development. It also tells us that we have a fantastic creative community around us and we're really grateful for that."
Creative reuse is championed at the co-op through a lively program of free talks and demos, affordable workshops for children and adults, and exhibitions showcasing up-cycled wares. Co-op staff hope this award will encourage more people to seek out their Woolloongabba store and discover the pleasures of salvaging and upcycling.
What – Reverse Garbage Queensland recipient of "People's Choice Award" in Cleaner Communities Brisbane program
When – Award announced in September 2015
Where – Reverse Garbage Queensland, 20 Burke St, Woolloongabba, Q, 4102
Contact – info@reversegarbageqld.com.au or 3891 9744 www.reversegarbageqld.com.au