Reverse Garbage Queensland fosters creativity in Brisbane's 'Zero-Plastic Generation' of kids and tweens
The importance of creative reuse around discarded materials will come to the forefront with Queensland's ban on plastic bags on the 1st of July.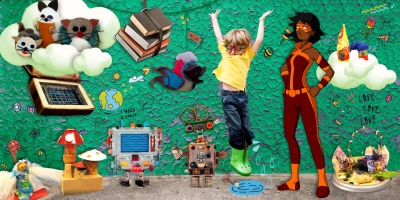 Reverse Garbage Queensland (RGQ) is supportive of any initiative that promotes the reduction of non biodegradable materials in our community. However, what becomes of those materials that are already in circulation? Do we write them off as destined for landfill or is there still something that can be done?
Queensland's ban on plastic bags will coincide with RGQ's school holiday program of eco-art workshops, which is aimed at helping the youngest members of our community build tangible steps to reducing and reusing materials for practical and creative purposes.
According to the Federal Government's most recent State of the Environment Report, published in 2017, Queenslanders produced 9.2 million tonnes of waste during the financial year of 2015/16.
"As consumers, we don't think about the consequences of what happens to our household waste once they're out of sight", said Wendy Small, RGQ's Workshop Coordinator.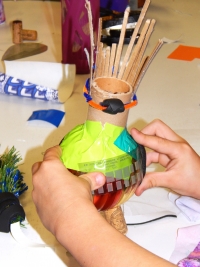 "Our school holiday campaign is about getting kids thinking about those consequences and then taking them that one step further to innovate around creatively reusing what we think are mundane materials around the home", she added.
Through our children's Eco-Art workshops, RGQ encourages children and their parents or carers to recognise that 'waste' is something we do, not something that 'is'.
RGQ's school holiday program of eco-art workshops and 'Zero-Plastic Generation' will be running from Tuesday the 3rd of July until Wednesday the 11th of July. With all workshop materials coming from donated industrial discards, including plastics, children will have the opportunity to learn something new and think outside the box.
Tickets are $20 per workshop (1½ hours) except for the Fairy Gardens, which is $32.50 per child (2½ hours). Materials are included and parents/carers are free. Children under 6 must be accompanied by an adult.
Tickets are available at: www.reversegarbageqld.eventbrite.com.au