Reverse Garbage Queensland's Top 6 Tips for a Creative Reuse Summer
Reverse Garbage Queensland's Top 6 Tips for a Creative Reuse Summer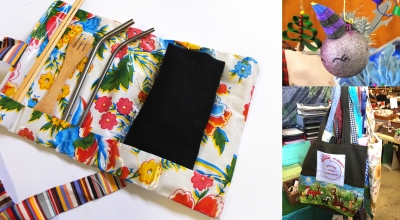 Last year, through our #GiveGood campaign we shared with you our top six tips for a green Christmas. This year we're returning with an updated list to help Brisbanites get through the holidays by sharing our Top 6 Tips for a Creative Reuse Summer.
With key 2018 municipal milestones, such as the statewide ban on plastic bags in July and the role-out of Queensland's Container Refund Scheme in November, kitchen table conversations across Brisbane have revolved around our relationship with 'waste' in our respective households.
Reverse Garbage Queensland (RGQ) wants to make sure that we continue those conversations into 2019 by showing how small and replicable changes to our household habits can lead to longterm improvements to our relationship with 'waste'.
So here it is, RGQ's Top 6 Tips for a Creative Reuse Summer:
1. Bag it, don't wrap it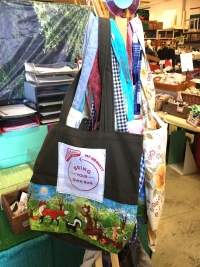 Instead of wrapping your gifts in paper, why not place them in a reusable cloth bag instead? For kids' gifts, it can be reused as a swim or library bag. If the gift is for an adult, the bag can be reused for shopping. Make the bag yourself from scraps of old fabric, otherwise look for stockists, such as our Reverse Emporium or Boomerang Bags, who both sell bags sewn from fabric off-cuts.
2. DIY Christmas Decorations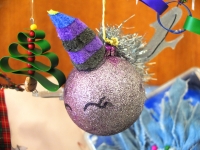 If you're looking for an easy way to engage the kids in DIY, we'll be running in-house Christmas eco-art workshops from Monday the 17th of December to Friday the 21st of December. For those families who can't make it to our warehouse we also have 1kg Christmas Mini Mail bags, made up of a mixture of materials that will help you run your own Christmas crafternoon from home.
3. Compost your food scraps
W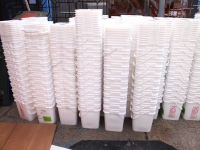 hether its scraps from the plates or well-intentioned leftovers that never get eaten, a large bulk of our Christmas food ends up waiting for kerbside pickup on bin day. Why not turn your Christmas food scraps into compost? If you're not much of a green thumb, then donate your food scraps to a local community garden, such as LOOP Growers or Northey Street City Farm. Pop in-store to buy one of our 15L white buckets for $3.50 – they make perfect scrap collectors.
4. Donate your unwanted gifts
We can't always expect Santa to get it right. When he doesn't, there are a number of charities, including Reverse Garbage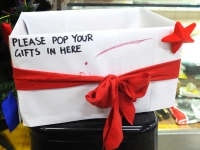 Queensland, who will happily accept your eclectic Christmas oddities for donations. However, like other reuse charities, we can't accept everything that is donated to us. As a base, we only take donations that are clean, in good condition and haven't been in contact with any food, soil or chemicals. If you're unsure, check with our Prohibited Items list before you pop in to donate your unloved presents. Otherwise give us a call on (07) 3891 9744.
5. DIY Summer crafts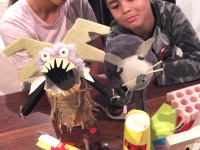 The key to a Creative Reuse Summer is teaching our kids to see the world through Zero-Waste eyes. A great way to do this is by encouraging them to create toys or games with items that would otherwise end up in the bin.
If you need help in kickstarting their imagination, then over the school holidays we'll be running more in-house Eco Arts Workshop for kids in 2019. Our second lot of Summer workshops will be from Tuesday the 8th of January to Wednesday the 23rd of January.
6. BYO crockery and cutlery
The next time you leave the home with your phone, wallet and keys, why not add your own 'eat out' kit to that list of essentials?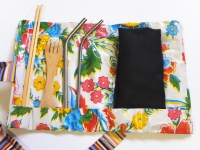 Put together an easy-carry kit of reusable cutlery, crockery, cups, straw and serviette.
You don't have to go out looking for an 'Eat Out' kit – most of what you need is already at home. Exceptions can be made for a serviette, which can be easily made from a scrap of fabric or old table cloth, and a reusable straw. If you don't have a reusable straw, then you can try visiting stores, such as Biome, to get your stash of environmentally-friendly straws.
p { margin-bottom: 0.25cm; line-height: 120%; }a:link { }