Not J*nk Mail January 2018
Hello Creative and Sustainable People!
Read through the complete Not Junk Mail newsletter here.
Can you believe it's 2018 now?! We're finding it a little difficult to believe that Reverse Garbage Queensland will no longer be teen-aged this year! After nearly two decades of preventing waste by offering clean, affordable industrial discards and sustainability education, we're hitting the ground running for another strong year ahead.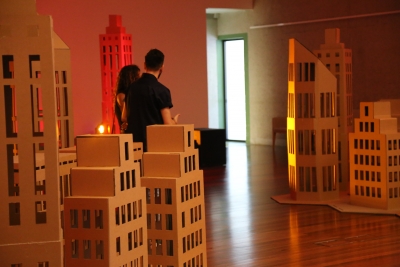 (Picture: Cardboard buildings for sale in our warehouse).
The school holidays are still going strong, and we've got fun eco-art workshops to entertain the kids. Likewise, for the kids-at-heart, our adult workshops are kicking off this year in February, and you can begin booking for them now.
While we all love a good holiday, January is about getting ready for the year ahead, and we're here to help you get back to school and work with some great deals on sustainable materials. Our products are half of retail price and prevent landfill, so definitely have a scroll through here.
See you in the Woolloongabba warehouse soon!