Not J*nk Mail February 2018
Hello Creative and Sustainable People!
Read through the complete Not Junk Mail newsletter here.
Wow, where did January go? And is anyone else still having a hard time remembering to write '2018' instead of '2017'??
January was a big month for us. We re-opened the store after the New Year break, and have been delivering a deluge of workshops for the school holidays, schools, educators and interested members of the public ever since! You can find some to be a part of by joining our workshops mailing list.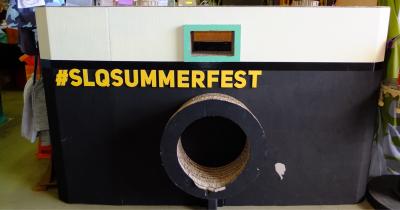 (Picture: Large Cardboard Camera from a Display)
As usual, we've also taken in a bunch of useful, unique or downright kooky industrial discards. Many are former feature displays for libraries and public galleries.
We also have a hot, new item to add to our store. It's an item you'll use every single day, and is made from 60% vegetable parts. Our employees might have bought a few boxes of it already, but there is still a pallet-load remaining. Intrigued?
On another note, February is also a time of great restructuring for us, with a few new members joining our team, and a few people trying out different roles. So do say hello if you see a fresh face - or better yet, apply to join our team today!
See you in our Woolloongabba warehouse soon!