Introduction to Upcycled Jewellery: Eco-Art Workshop for Adults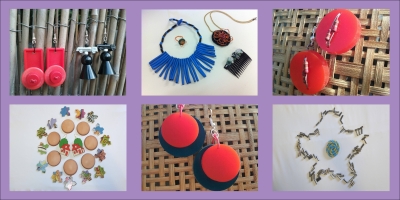 Jewellery making is a beautiful way to turn salvaged treasures into wearable art. This workshop is all about finding new value in both common and uncommon objects such as plastic and cork offcuts, old game board pieces, computer cable and buttons which become the raw materials of upcycled jewellery. We will cover the basic techniques of jewellery making using valuable resources diverted from landfill. Participants will learn techniques such as joining and the use of tools and will be able to make their own earrings, necklace and/or bracelet.
Our 2017 workshop program for adults features traditional and innovative projects with a focus on sustainable creativity. Let our experienced facilitators introduce you to new skills utilising the ever varied and interesting materials so unique to RGQ. Our workshop space is such a fun and engaging environment where we will share skills and laughs plus a cuppa and a biscuit too! Come along and be inspired! Suitable for ages 13 and up.
Suitable for beginners, ages 13 and up.
Tickets cost $25 per person, plus a small booking fee, and includes materials, tools and an experienced facilitator (ticket fee is non-refundable).
If you have any queries, please call us on 3891 9744 or email workshops@reversegarbageqld.com.au