Easy-Peasy Macrame: Eco-Art Workshop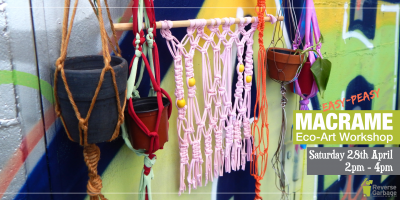 In this workshop, we'll show you the ropes and have you tying knots to create your own simple macrame plant hanger or mobile! These beauties look great hanging on their own or in multiples.
We'll be exploring basic macrame techniques and using salvaged materials such as ropes, computer cable and fabric strips from the warehouse to make our own.
Please note, plants and containers are not provided. We encourage you to bring along an old unwanted household item or container to upcycle into your plant pot.
Organise a fun, social activity for a group of friends by inviting and sharing on facebook!
(To secure a place, workshops must be paid in full upon booking. Fees are non-refundable.)
20 Burke Street Woolloongabba
Brisbane, Queensland 4102

Saturday, 28 April 2018 from 2:00 pm to 4:00 pm (AEST)

Book your tickets here.