Easter Basket Eco Art Workshop Activity Sheet
Easter Baskets Eco Art Workshop Activity Sheet
Please note: this is not an exhaustive instructional list. It is a supporting piece to the complete workshop, which can be found on RGQ TV.
What Tools will you need?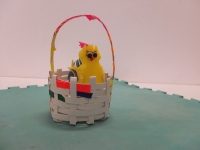 Scissors

Staplers

Pencil & Pen
Sticky Tape (but challenge yourself to find alternative ways to join parts and bits together
Ruler
Cutting Mat
Little Bin
PVA, craft glue or water-based paste
What tools would be handy but aren't necessary?
Box Cutter / Stanley Knife
Pliers / Wire cutters
Needle and thread
Hot Glue Gun
What materials can I expect in my craft pack?
Each pack varies. This is a guide of what to epect.
Strips of cardboard and plastic
Leather
Silver & high-vis protective material
Paper stars
fabric samples
Paper samples
Sticky back foam
Foam
Plastic sea weed
Witchy hair
Rectangular container bases
What you can use from home
Tin cans
Straws
Plastic bottle caps
Plastic soda or juice bottles
Joining Tips
Use the sticky foam & plastic for decorations & sticking bits together
Stapler is your best friend
Threading wire through a button hold becomes a strong point for handles
Alternative to wire can be bread ties
Remember: sticky tape is the last resort! Always look for creative alternatives first.
Weaving Tips
Start with a base container

Lay your base pieces and secure with tape or glue
Gently mould the base pieces to the bottom of your container
Weave your crosse piece alternating between under and over the base pieces
Finish off each weave row with tape
Once at the top remove mould
Feed end piece back through the design
Secure with tape or a stapler or tuck back into the weave