Call Out for Market Vendors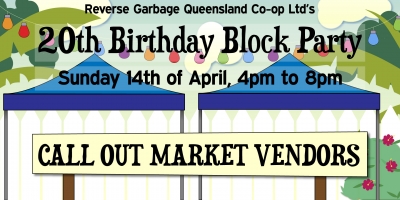 If you'd like to be a market vendor at our Reverse Garbage Queensland's 20th Birthday Block Party on Sunday the 14th of April then please send your expression of interest to Jacqueline, our Reverse Emporium Coordinator, at emporium@reversegarbageqld.com.au.
...
To be considered, your creations must be made up of, at minimum, 75% salvaged materials i.e. materials that have been #preloved, #reused, #reclaimed, or #upcycled. As well as this, all items must be suitable for sale, thus finished to a high standard.
...
You don't have to be an existing consigned artist to our Reverse Emporium to participate. We welcome all new and current artisans to apply.
...
10 spots available. $25 vendor fee, which includes 1 table (85cmx86cm) and a shared tent with another vendor (3m x 3m).
...
#rgqblockparty #20thanniversary #choosetoreuse #ecoart #ecocraft #reuserevoltion #creativereuse #supportlocal #localmarkets