Book Your Spot at our July School Holiday Eco-Art Workshops!
Tickets to our July School Holiday #EcoArt Workshops are now available!
We'll be running 12 workshops from Tue 3rd of July to Wed 11th of July. Our #workshops are targeted at children aged 4 to 12 years old. All children under 6 must be accompanied by an adult. All attending parents/carers are free.
Choose from our five themes:
Create a Cuddle Character $20 + booking fee
Tuesday July 3rd 10:30am - 12:00pm
Wednesday July 4th 2pm - 3:30pm
Monday July 9th 10:30am - 12:00pm
This is a lovely workshop for adults and little ones to do together. We'll use lots of tactile, preloved fabrics, wadding, vinyls, furs, dots and spots. Choose from stapling, glueing, tying or simple sewing to join the elements together to create your softie.
Wonder kids: Superfy your secret power $20 + booking fee
Friday July 6th 10:30am - 12:00pm
Monday July 9th 2:00pm - 3:30pm
Wednesday July 11th 2:00pm - 3:30pm
If you could have a super power, what would it be? Why not bring that power to life at our Wonder Kids workshop? Together we'll flex our creative muscles using an array of salvaged materials to make an incredible costume that will bring your super powers to life!
Make your own secret keeper $20 + booking fee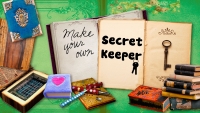 Tuesday July 3rd 2:00pm - 3:30pm
Shh!! Can you keep a secret? We have a special workshop just for you to make your own hardback diary, iPad or secret keeping book. Choose from our selection of weird and wonderful materials to decorate (or fortify) to your personality's taste.
Tinker lab: invent a robot friend $20 + booking fee
Wednesday July 4th 10:30am - 12:00pm
Friday July 6th 2:00pm - 3:30pm
Tuesday July 10th 2:00pm - 3:30pm
Wednesday July 11th 10:30am - 12:00pm
When lost in space, its handy to have a friend. A robot friend, in fact! Tinker in our lab of industrial discards, use tools to take apart old, broken objects to invent a new gizmo or robotic friend. A great workshop for adults and children to do together.
UPSIZED WORKSHOP Fairy gardens $32.50 + booking fee
Tuesday July 10th 10:30am - 1:00pm
Our fairy gardens are back! Create your own magical garden with pieces from our selection of salvaged materials and earth-friendly finds. Be inspired by our range of upcycled treasures to create your own miniature paradise.
To see our full program or book your spot, visit www.reversegarbageqld.eventbrite.com.au. Otherwise you can visit our Events Calendar or check out our FB Events page.
p { margin-bottom: 0.25cm; line-height: 120%; }a:link { }