RGQ Presents Springtime Workshops!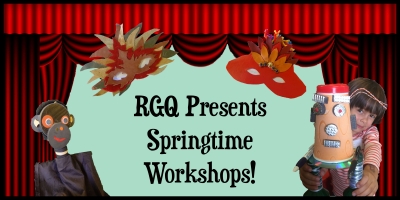 See here for booking information and program timetable.
Spring has sprung, and we're here to offer some stimulating, creative and sustainable workshops for your children!
This September school holidays, we're introducing some exciting new themes to our eco-art workshop program!
As always, our workshops are great for 4 to 12 year olds, and demonstrate how to make things out of clean industrial discards. Our experienced and artistic facilitators will have wonderful examples to inspire and challenge participants.
If your child is under six, they need to be accompanied by an adult at no extra cost, but if they are seven or older they can create while you shop in the warehouse or go for a coffee nearby.
Your ticket fees help us to keep our materials reuse warehouse and educational workshops going, as we are a self-funded environmental co-operative.
We look forward to seeing what your child creates!
Creature Features Lab (NEW)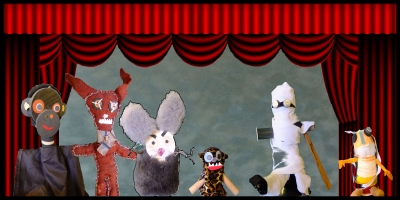 Make your own monster, zombie, or creative creature out of the weirdest materials from the RGQ warehouse! Inspired by the classic monster films of the past, we're going to invent hand-made horrors out of offcuts and mis-matched materials including fur, foam, cardboard tubes, fabric and computer cable. Children will also have the chance to record their character in action for our mini RGQ creature feature movie* which will be screened online at the end of the school holidays.
It's...alive!!!
*What type of movie will it be? A very simple video using a puppet theatre as the stage. We will interview children about how they made their character (children will not be visually identified in the video unless permission is given by their guardian). Please note we will not have time in the session to create a stop-animation movie (unfortunately)!
Suitable for ages 4 to 12 (Children under 7 must be accompanied by a guardian).
Tickets $20 + small booking fee; maximum 15 children
Tinker space: Robots, amazing inventions and creative constructions!
Step into our tinker space to invent your own toy or object from salvaged materials. It could be a robot, a toy with moving parts, or a fabulous junky construction! To increase the fun, children can use tools to take apart old, broken objects to use in their inventions. Parents are welcome to join in at no extra cost; or better yet, why not bring a friend and create something awesome together?
Tickets $20 + small booking fee; maximum 15 children
Daring disguises - Mini workshop!
This mini workshop is perfect for little ones with short attention spans, or anyone preferring an express workshop experience. Create a fun disguise out of salvaged treasures such as cardboard circles, felt, fabric, fur and more! Make a mask of your favourite character, or just play with the materials to create something spectacular for your dress up box, like animal ears, a tail, or a special prop to play with. There'll be lots of colourful things to choose from and sensory stimulation, as well as children's books full of characters and images to spark the imagination.
Tickets $10 per hour + small booking fee; maximum 10 children per hour (running for 5 hours across the day).