December 2017 School Holiday Workshops!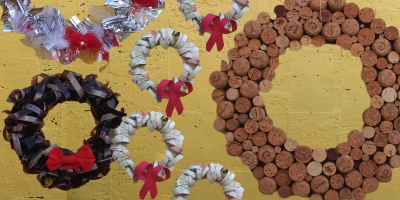 Come along to Reverse Garbage QLD these December school holidays where our workshops are set to inspire and entertain children while they learn about sustainability too! With a focus on reusing clean discards, we are getting ready for an environmentally-friendly Christmas. Using some everyday recyclables plus our fabulous array of salvaged materials, we're creating handmade ornaments, wreaths, snow globes and piñatas in time for Christmas parties and to wrap up under the tree!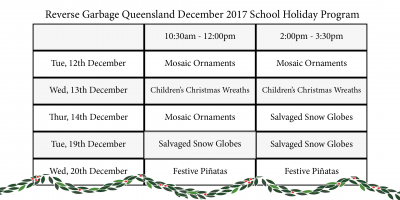 Age suitability and pricing
Designed for children 4-12 years old, our workshops demonstrate how to use clean industrial discards to create amazing works of art! Children will learn something new, think outside the box and take home a special creation they will love to play with through the holidays! Our experienced facilitator will suggest age appropriate ideas to challenge and engage participants. Children under 6 need to be accompanied by an adult at no extra cost.

Tickets cost $20 plus a small booking fee. Purchase two or more tickets and receive a 10% discount on subsequent tickets.
It's more fun when you're making with friends – invite friends to register through Facebook!
Make colourful mosaics to hang on the tree or give as a handmade gift. Children will love to become a mini designer, arranging shiny mosaic tiles, beads and other interesting objects to create their own unique festive ornaments, with maybe a dash of glitter to make it shimmer when it catches the light. Best of all, children won't need any help from adults to glue the parts together, allowing them more creative autonomy. Once dry, mosaics can also be painted.

Bring out the joy and excitement of Christmas by making your own wreath to hang on the door or to fill the house with festive cheer. In this workshop children can create earth-friendly wreaths from clean industrial discards like fabric, film strips, old calendars and more.

Children are often fascinated by miniature worlds, and in this workshop we're going to create our own, starting with a humble jar and lots of inspiration! Under the globe, we'll use corks, foam, little rubber shapes and other salvaged materials to make an enchanting Christmas scene. It could be fairies and elves, Santa, winter animals, or maybe an Aussie animal in a santa hat. Will you add confetti or glitter to make it snow? Perfect as a special gift or to display during the festive season.
Please bring along a clear plastic or glass jar from your recycling bin, large enough to accommodate your mini world (smooth containers are better). All other materials will be provided.

Get ready for your Christmas party by making your very own piñata! It's much more special to make your own, rather than buying it from the shops, and we've got lots of ideas to get you started. We'll reuse cardboard boxes to make a piñata in the shape of an animal, ornament, or Christmas character, then go to town decorating it with colourful papers, fringes, stickers and a fun range of clean industrial discards. It will be ready for you to take home and fill with yummy treats in time for Christmas day!