2019 Educators' Series Creative Reuse Round Table - Mar 15
**NOTE: Expression of Interest form is at the bottom of this page**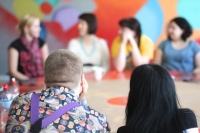 Our Educators' Creative Reuse Round Table is the first of its kind in RGQ's 20-year history. Your contribution will help us build a library of free downloadable resources that will inspire other educators to infuse creative reuse into their educational programs.
We are looking for expressions of interest from early learning educators for a collaborative round table session. There are 6 (six) spots available.
Each educator will be paired up with an RGQ staff member to work together and develop a creative activity for a specific age group (between 3 to 7
years) during this creative intensive.
Due to the limited time, we ask that you submit a broad idea beforehand so that the session can be most productive.
The outcome of the session will be a lesson plan* that you can take away to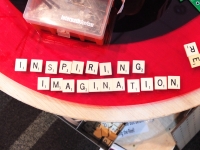 use in your kindergarten or school, along with a creative sample made from our exciting salvaged materials, to inspire your children to get creative. This will also be shared at the round table and made available to other educators online.**
How To Apply
If you are an educator with experience in facilitating creative reuse, then we invite you to submit an expression of interest, which is a short form answering some questions.
We ask that you select an area of interest and provide some preliminary details about the resource you would like to develop – e.g. a loose parts invitation to play, a construction activity, a STEM game, a sustainable craft activity. We especially welcome ideas that don't already exist within the RGQ workshop catalogue (available here).
Cost
The event itself is free, but participants are asked to contribute $21.50 for catering as dinner will be provided during the session.
** All applicants will be notified by email as to whether they've been selected to participate in the Round Table. Upon accepting the invitation we asked that the participation fee be paid in full in advance of the Round Table.
Program
4:00 – 4:30pm
Introduction by RGQ. Meet and
greet and ice breaker.
4:30 – 6:00pm
Participants work together in
pairs on developing their activity
6:00 – 6:30pm
Participants present to the
group.
If you'd like to participate in the Round Table please complete the Expression of Interest form by 8pm on Sunday the 17th of February, 2019.
Expression of Interest Form