OSHC Workshop Themes
Our OSHC workshop themes are designed to engage children in a fun and meaningful way during their school holidays. We have handpicked the themes below based on their suitability for a variety of age levels and abilities. All themes are popular with both boys and girls.
To make an enquiry regarding our workshops, please fill out our request form
here
, email
here
or give one of our friendly Workshop Facilitators a call on (07) 3891 9744.
BUGS AND CREEPY CRAWLIES!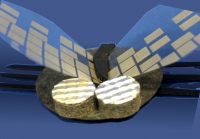 Children of all ages are fascinated by nature and just love creepy crawlies. In this workshop we will be making riveting invertebrates, enthralling arthropods and curious crustaceans. Using collaging techniques with our usual array of salvaged materials like cardboard circles, bendy wire, microfiche (for wings) and foam pieces together with non-toxic PVA glue, contact, sticky foam and staples to decorate.
MAD HATTER'S TEA PARTY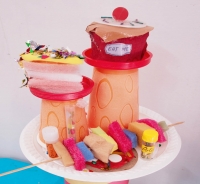 Inspired by the Lewis Carroll classic, enter our wonderland of salvaged materials to make your own weird and wonderful creation. This workshop sees children enter the fantastical world of make believe where they can make up-cycled treats fit for a queen or even a magic potion that will make you as tall as house. Using salvaged materials such as plastic lidded tubes, colourful foam, cardboard and wadding, children can make pretend food and magic potions, a funny hat or even a dormouse toy! Afterwards, why not have a tea party of your own?!
MONSTERS, DRAGONS AND FANTASY CREATURES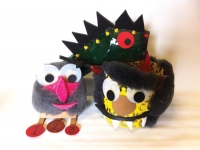 Don't be scared by the monstrous array of salvaged materials to choose from! In this workshop children will use alternative construction methods and a variety of unconventional materials to create their own 3D sculpture of a monster or magical beast. Stuff some bandaging with wadding, add some fur or shiny scales, white sharp teeth of cardboard and coloured foam pieces or leather for some wings are just a few ideas to get you started. It could be a troll, bunyip, dragon or other wild thing! Best of all it's yours to keep to play with at home.
UPCYCLED MUSICAL INSTRUMENTS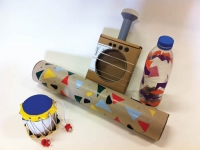 Start the day off with a bang by making your very own up-cycled musical instruments from industrial discards! Using PVA glue, sticky foam, rubber bands and staples, children will make wonderful instruments such as shakers, card board box guitars, rain sticks, drums and rattles.
Our facilitator will demonstrate a few different ideas for children to make their favourite instrument. Afterwards, you can start your own band or orchestra. Let's make some noise!
PUPPETS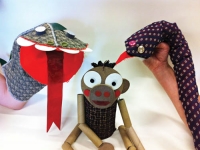 In this workshop children have the chance to create a puppet using industrial discards such as bandage tubing, small cardboard/plastic tubes, various coloured fabric, wool, and wire. With a variety of materials children may create a hand puppet, finger puppet or even a marionette. We'll create colourful characters by defining their features and bring them to life with funny voices! Afterwards, you may like to put on a puppet show with everyone's creations playing a part!
ROBOTS, ALIENS AND SPACESHIPS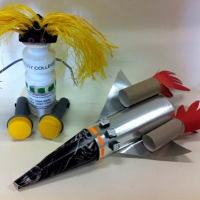 Children will be able to make their own robot, spaceship or alien using the fabulous array of industrial discards found at Reverse Garbage QLD like shiny silver foil, various plastic containers, computer cable and sticky dots. Build a robot that does special functions, a space station to explore new worlds or a friendly alien to share your adventures with! To infinity and beyond!
PLANES, TRAINS AND AUTOMOBILES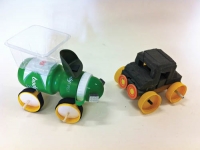 In this workshop we'll be making all things that move –build your own favourite form of transportation. Will it be a car, aeroplane, bus or tractor?
You might even make a special vehicle for your favourite toy to ride in!
There will be plastic and cardboard boxes of various sizes, cardboard tubes and lots of coulourful bits for decorating too. The sky's the limit!
CREATIVE COSTUMES / WEARABLE ART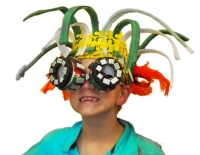 Come along and strut your stuff on the Reverse Garbage QLD catwalk to create unique and fashionable pieces of wearable art. Dressing up is always fun and even more so when you get to create your own costume out of salvaged materials. Use wedding fabric discards to make a fairy skirt, sheepskin offcuts for a monster hat or how about some silver cardboard armour for a dragon rider's outfit? Afterwards you can have a fashion parade or costume party!
CHRISTMAS THEMES
CHRISTMAS DECORATIONS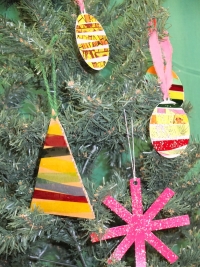 Tis the season to get creative and make some handmade Christmas trimmings for the tree or home! Come along and make some gorgeous decorations using unconventional materials. This workshop is suitable for all ages. More complex technique and ideas will be explored for older participants.
SANTA AND FRIENDS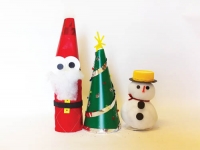 Santa Claus is coming to town, and he's brought his friends along too! Come and create your favourite Christmas character from industrial discards. We'll be using cardboard tubes, Christmas coloured fabric, paper circles and much more.
You might like to make Santa, Rudolf, a Snowman or how about a Christmas angel?
CHRISTMAS WREATHS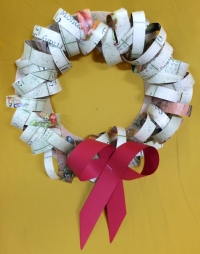 Children will make their own festive wreath using a cardboard circle for a base and cut up paper from up-cycled books and calendars to decorate. Using the strips of paper, we will use stapling and gluing to attach these to the base.
Our facilitator will demonstrate two different techniques, an easier one and one that's a little more advanced. Both look beautiful when finished and are lots of fun to make. Children can choose their own trimmings.