January 2018 School Holiday Workshops!
With the excitement of Christmas over and still weeks of summer holidays left, there's no time to be bored with some fantastic RGQ children's workshops on offer. Our school holiday workshops are really creative, a whole lot of fun and sure to keep young ones happy through the holidays. Choose from the ever popular Monsters and Dragons, Junk Bots and Musical Instruments, or our brand new workshop where you can design and create your own board game! Children will be stimulated creatively, learn new skills in 3D construction and take home an awesome creation all their own!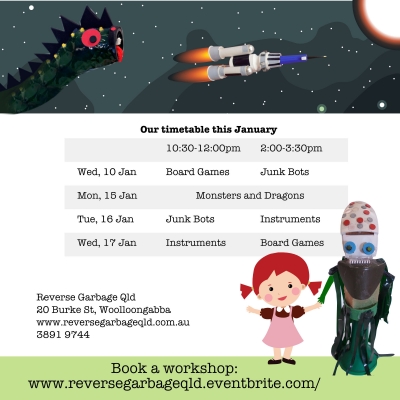 Designed for children 4-12 years old, our workshops demonstrate how to use clean industrial discards to create amazing works of art! Children will learn something new, think outside the box and take home a special creation they will love to play with through the holidays! Our experienced facilitator will suggest age appropriate ideas to challenge and engage participants. Children under 6 need to be accompanied by an adult at no extra cost.
Tickets cost $20 plus a small booking fee. Purchase two or more tickets and receive a 10% discount on subsequent tickets.
It's more fun when you're making with friends – invite friends to register through Facebook!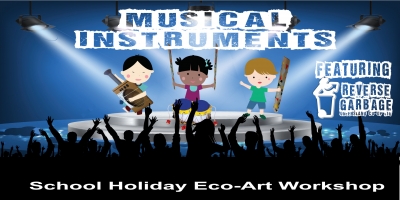 Start the day off with a bang by making your very own musical instruments from industrial discards! With instruments such as shakers, rain sticks, drums and rattles you'll be able to start your own band! We're using cardboard tubes, coat hangers, containers and all sorts of salvaged materials that jingle and jangle. Let's make some noise!
Suitable for 4 - 12 year olds.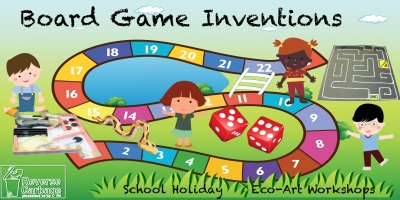 Calling all young inventors and designers! Make the most of your holidays by designing and creating your very own board game! We've got fun ideas to get you started, like a maze game for marbles, classics like Snakes and ladders, magnetic fishing, noughts and crosses, or why not come up with a unique idea of your own! We encourage you to think outside the square, create 3D elements, explore interesting textures and colours! With our wacky materials like rubber discs, plastic bits, felt, coloured contact, and useful cardboard bases, your board game will be uniquely yours and best of all you'll be able to play it with friends and family afterwards!
Suitable for 6 - 12 year olds.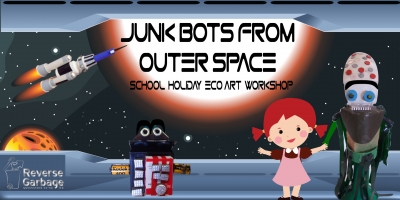 Alert! Alert! Aliens are invading! But they're here to have fun! Join them in this exciting workshop where you can construct your own robot to perform a specific task, create an alien creature from a far away planet, or design a spaceship to travel to the stars and beyond. Create with salvaged space junk and some of the strangest materials this side of the galaxy!
Suitable for 4 - 12 year olds.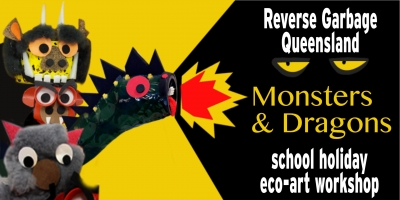 Have a roaring good time at this workshop as we show you lots of great ideas for you to make your own dragon and train it too! Stuff some coffee bags with wadding, add some fur or shiny scales, white sharp teeth of cardboard and coloured foam pieces or leather for some wings are just a few ideas to get you started. Best of all it's yours to keep to play with during your holidays.
Suitable for 4 - 12 year olds